Donald Trump says he has no plans to launch a new political party, telling a conservative conference in Florida that it would split the Republican vote. He also suggested he may run for president again in 2024.
Mr Trump strongly criticised his successor, saying US policy had gone from "America first to America last".
The speech comes weeks after Mr Trump was acquitted in an impeachment trial.
His appearance at the Conservative Political Action Conference (CPAC) in Orlando on Sunday was indicative of his continued influence over the Republican Party.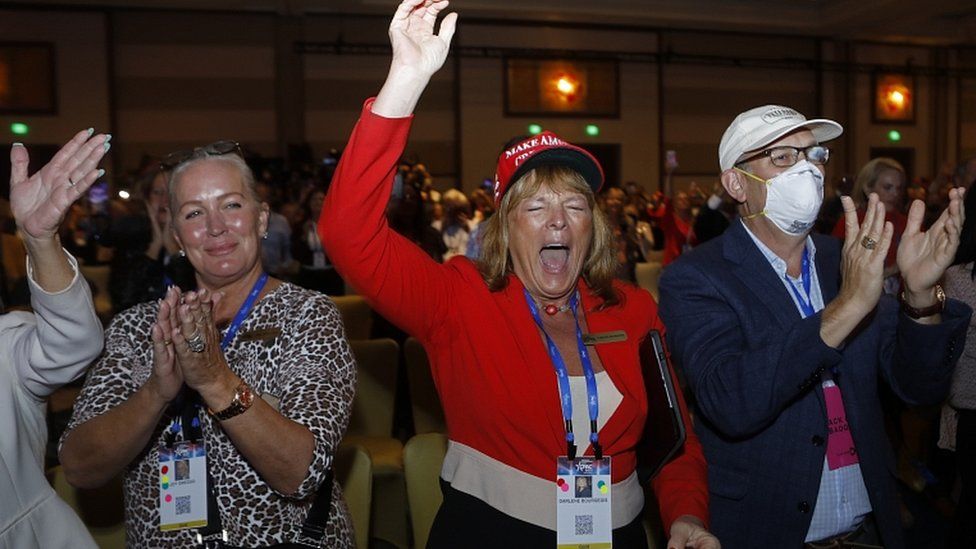 "Do you miss me yet?" Mr Trump began, amid rapturous applause.
"I stand before you today to declare that the incredible journey we began together… there's never been a journey so successful – we began it together four years ago and it is far from over," he said.
He dismissed suggestions he may start a new party, saying "we're not interested in them".
Wouldn't that be brilliant? Let's start a new party so we can divide our vote and never win," he joked.
"We have the Republican Party. It's going to unite and be stronger than ever before."
"He talked about energy. I thought 'this guy, actually he's ok with energy'. He wasn't ok with energy… he wants windmills."
Continuing his attack, he suggested the Democrat would lose in 2024, adding: "Who knows, I may even decide to beat them for a third time" – a reference to the repeated and baseless claim that he did not lose the last election.
The former reality TV star returned to many of his favourite themes, apparently deviating from his prepared speech while railing over immigration, the Paris Climate Agreement and attacking China.