Paris Saint-Germain and Istanbul Basaksehir players walked off the pitch in protest after reports of an alleged racist slur by the fourth official during their Champions League tie.
The match was halted in the 23rd minute after Pierre Webo, Basaksehir's assistant coach, had been sent off in a touchline row.
https://twitter.com/i/status/1336408177525616642
Video footage emerged which appeared to show Webo accusing the fourth official of using racist language.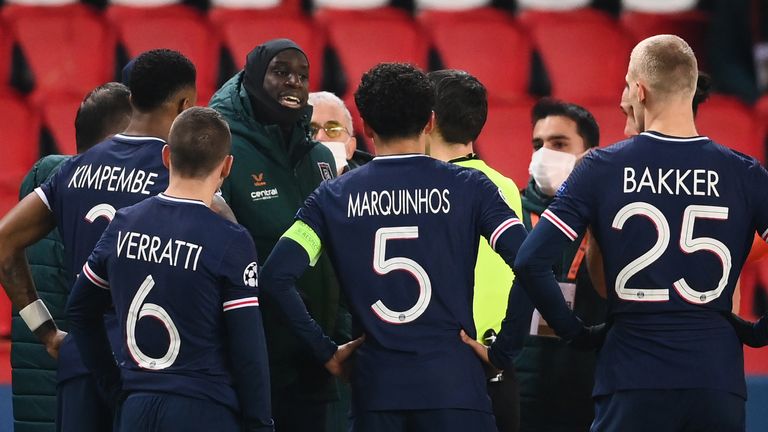 Ba confronted the referee over the incident
Basaksehir substitute Demba Ba could be seen protesting on the touchline, while PSG players including Neymar and Kylian Mbappe also appeared to be demanding an explanation.
The match was set to resume with a different fourth official and UEFA has said it will investigate the incident.
"Following an alleged incident involving the fourth official, the match was temporarily suspended," a statement read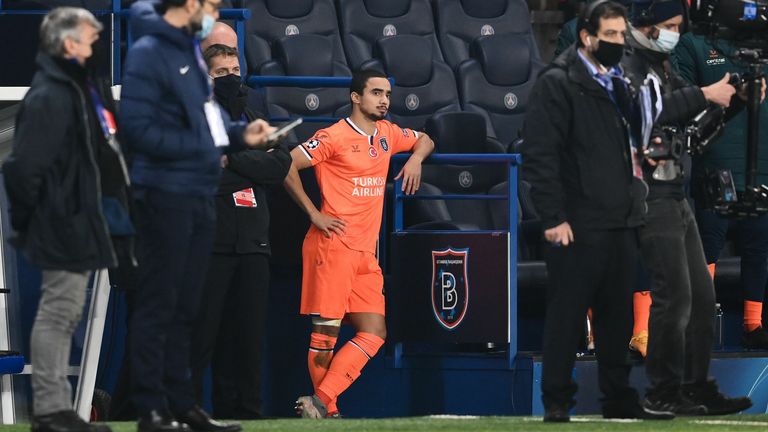 Basaksehir's Brazilian defender Rafael looks on after the game was suspended
"After consultation with both teams, it was agreed that the match would restart with a different fourth official."
Basaksehir posted a message on their Twitter account which read: "NO TO RACISM #Respect."
https://twitter.com/ibfk2014/status/1336407284029730818?s=20
PSG players followed them down the tunnel with the game at Parc des Princes suspended at 0-0.
Neymar, Kylian Mbappe and Marquinhos were all seen on the touchline in discussion with Coltescu.
Basaksehir coach Okan Buruk said 'you are racist' to Coltescu.
Within minutes of the incident, Basaksehir's Twitter feed posted a picture of UEFA's 'No To Racism' campaign.
Speaking during BT Sport's Champions League coverage, Rio Ferdinand said: 'We are at a disturbing tipping point.
'Millwall, now this, in the same week, not a week goes by without an incident involving race, something needs to be done, the powers that be need to make a stand.
'Showing unity [by the players] is a start, but it cannot be left to players.'
Former Manchester United striker Louis Saha told French station RMC: 'What upsets me that the players are the (only) ones to take a stand.
'Uefa didn't… Now Uefa are making ultimatums about restarting the match… it's like they're in denial… there's no sign they are ever going to take this problem seriously.'