All Progressive Congress (APC) National leader and former Governor of Lagos State Senator Asiwaju Bola Ahmed Tinubu, was at the Redeemed Christian Church of God (RCCG)'s 66th Annual Convention on Tuesday to felicitate with his wife, Senator Remi Tinubu who was ordained an Assistant Pastor in the church.
Senator Remi Tinubu (right) was ordained by Pastor Adewole Hastrup, an Assistant General Overseer of the RCCG during one of the ordination programmes organised as part of activities to mark the church's 66th annual convention.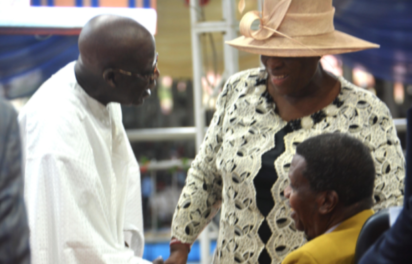 Photo from left Asiwaju Bola Ahmed Tinubu, APC leader; Pastor (Mrs) Folu Adeboye, and Pastor Enoch Adejare Adeboye, General Overseer, Redeemed Christian Church of God at the ongoing 66th Annual Convention of RCCG holding at the km 46, Lagos-Ibadan expressway camp of the church on Tuesday.
Photos by Lamidi Bamidele