NASA has released new pictures captured by the Perseverance rover after its dramatic touchdown on Mars.
At a news conference, one of the engineers involved with the ambitious voyage said: "This really is the surface of an alien world – and we've just arrived."
A panoramic image was also shared on the mission's official Twitter page, along with the caption: "Landing on Mars is a rush of tension, drama, and noise. Then, when the dust clears: tranquillity and grandeur."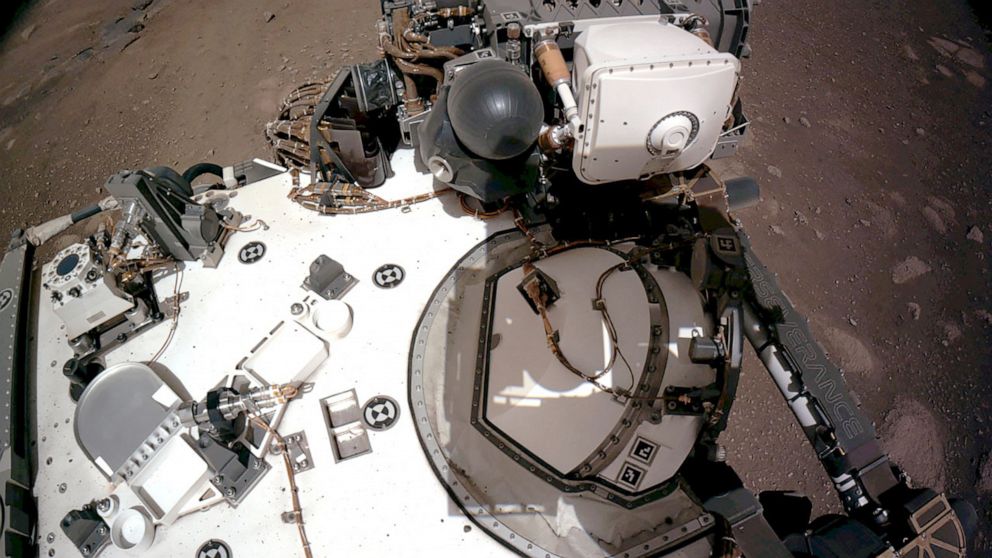 This NASA photo released, Feb. 22, 2021, shows the Navigation Cameras, or Navcams, aboard NASAs Perseverance Mars rover captured in this view of the rovers deck on Feb. 20, 2021.
More than 30GB of information has already been collected from the rover – along with 23,000 images as the vehicle descended.
Matt Wallace, Perseverance's deputy project manager, revealed that he got the idea for the sophisticated camera system after buying his gymnast daughter a sports camera and a harness.
Your front-row seat to my Mars landing is here. Watch how we did it.#CountdownToMars pic.twitter.com/Avv13dSVmQ

— NASA's Perseverance Mars Rover (@NASAPersevere) February 22, 2021
He explained: "I don't know about you, but I can't do a backflip. But when she showed me the video – and I watched that camera pan up to the ceiling and the room go upside down and somehow right itself as she landed on her feet – I felt for a moment that I had a glimpse into what it would be like if I could do a backflip."
Mr Wallace added: "It is unlikely at this point in my career that I will pilot a spacecraft down to the surface of Mars. But when you see this imagery, I think you will feel like you are getting a glimpse into what it would be like to land successfully in Jezero Crater with Perseverance."