Israeli Prime Minister Benjamin Netanyahu secretly flew to Saudi Arabia on Sunday to meet Crown Prince Mohammed bin Salman, Israeli media report.
Flight-tracking data showed a business jet previously used by Mr Netanyahu travelled to the Red Sea city of Neom.
There was no official confirmation, but an Israeli minister said he had been told about it by the foreign ministry.
It would be the first known meeting between leaders of the historical foes, whom the US wants to normalise ties.
President Donald Trump has recently brokered deals establishing diplomatic relations between Israel and the United Arab Emirates, Bahrain and Sudan.
Saudi Arabia cautiously welcomed those moves, but indicated it would not follow suit until there was a peace agreement between Israel and the Palestinians.
Citing unnamed sources, Israeli public broadcaster Kan and other media reported that Mr Netanyahu and the head of the Mossad intelligence service, Yossi Cohen, held talks on Sunday evening with Crown Prince Mohammed and US Secretary of State Mike Pompeo.
The meeting took place in the city of Neom, a planned hi-tech and tourism hub on Saudi Arabia's northern Red Sea coast only 70km (40 miles) from the southern tip of Israel, the sources said.
According to data from FlightRadar24.com, a Gulfstream IV jet took off from Tel Aviv's Ben Gurion International airport on Sunday afternoon and flew south along the eastern coast of Egypt's Sinai Peninsula before heading towards Saudi Arabia's western Red Sea coast.
ABSOLUTELY rare Israeli flight direct to new Saudi mega-city Neom on Red Sea shore

It was Bibi's ex-fav bizjet t7-cpx. Back to Tel Aviv after 5 hours on ground pic.twitter.com/Ty9aedYbsK

— avi scharf (@avischarf) November 23, 2020
The aircraft landed in Neom just after 18:30 GMT and remained there until 21:50, according to the data. It then returned to Tel Aviv via the same route.
Mr Netanyahu's office would not confirm the reports of the meeting.
But cabinet minister Zeev Elkin told Army Radio: "I wasn't on the plane to Saudi Arabia."
Mr Netanyahu's social media adviser, Topaz Luk, also appeared to suggest the meeting had taken place when he tweeted: "Gantz is playing politics while the prime minister is making peace".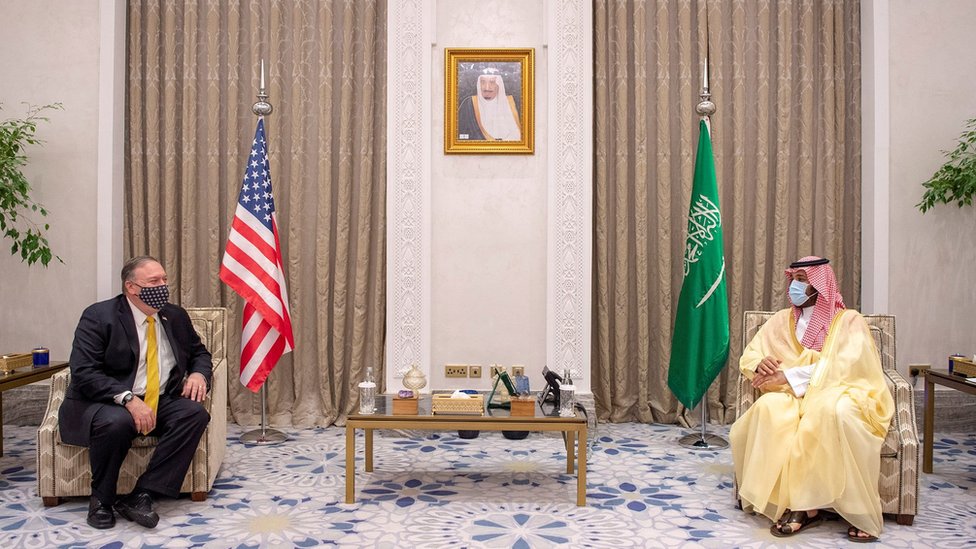 US Secretary of State Mike Pompeo and Saudi Crown Prince Mohammed bin Salman held talks on Sunday
Saudi state media reported that Prince Mohammed had met Mr Pompeo on Sunday, but they made no mention of any visit by Mr Netanyahu.
President Trump has said he expects Saudi Arabia to normalise relations with Israel, but such a move faces big hurdles.
Saudi Foreign Minister Prince Faisal bin Farhan Al Saud said in an interview on Saturday with Reuters news agency during the G20 summit – hosted by Saudi Arabia but with world leaders participating virtually – that the kingdom's position had not changed.
"We have supported normalisation with Israel for a long time, because we are the authors of the 2002 Arab Peace initiative, which envisioned complete normalisation with Israel."
"But there is one very important thing that has to happen first, which is a permanent and full peace deal between the Palestinians and Israelis that delivers a Palestinian state with dignity within the 1967 borders to the Palestinians."