A former US Olympics gymnastics coach has killed himself hours after he was charged with sexual assault and human trafficking, officials say.
Michigan's attorney general confirmed the death of John Geddert, hours after outlining 24 charges against him.
Geddert was head coach of the women's gymnastics team in 2012 and worked closely with team doctor Larry Nassar.
The widespread abuse revelations have caused intense scrutiny of USA Gymnastics and criticism of how it safeguards athletes.
Geddert, 63, had owned the training facility in Michigan where Nassar had served as the gym's doctor. A number of gymnasts accused him of abusive behaviour when they testified during Nassar's trial.
He was expected to turn himself in on Thursday afternoon but did not appear, the attorney general's office said.
"My office has been notified that the body of John Geddert was found late this afternoon after taking his own life," Michigan Attorney General Dana Nessel later said in a statement.
"This is a tragic end to a tragic story for everyone involved."
What was Geddert accused of?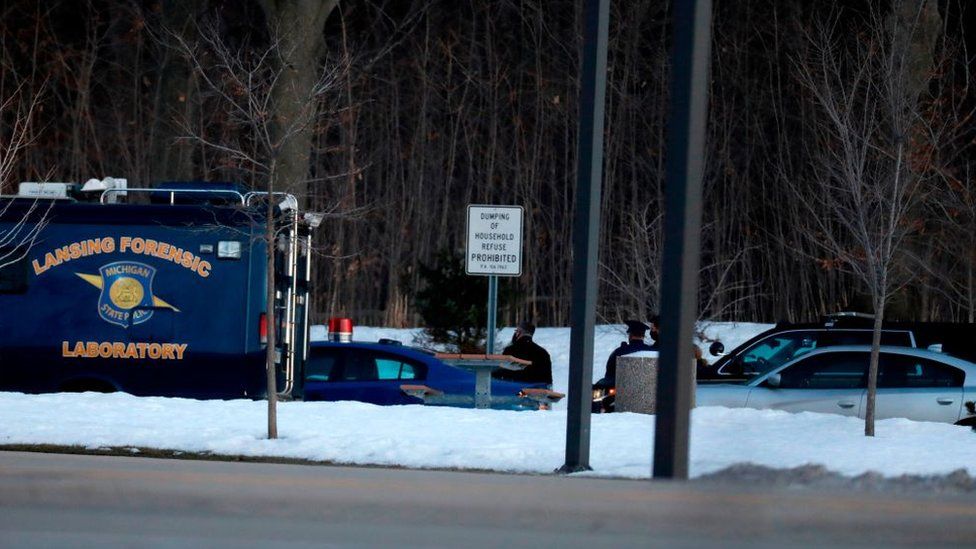 Two of the counts involved the alleged sexual assault of a girl between the age of 13 and 16.
He also faced 14 human trafficking charges for allegedly subjecting "his athletes to forced labor or services under extreme conditions that contributed to them suffering injuries and harm".
Geddert "neglected those injuries that were reported to him by the victims and used coercion, intimidation, threats and physical force to get them to perform to the standard he expected," the attorney general's statement said.
A lawyer for some of Geddert's alleged victims had earlier welcomed the interpretation of human trafficking laws in the case and said it marked "an important step in child protection" to potentially deter similar actions by others.
Geddert was also accused of lying to investigators in 2016 during the probe into the allegations against Nassar.
"Geddert's abuse, like so much, was never a secret. EVER," tweeted Rachael Denhollander, the first woman to publicly accuse Nassar.
"We have to grapple with the reality that it was known, and no one stopped him."
Sarah Klein, the first known victim of Nassar, told NBC 25 News on Thursday that the abuse from Geddert was worse, describing it as "pure trauma".
In a statement, Ms Klein – who is now an attorney and advocate for victims of sexual abuse – called Geddert's death an "escape from justice" for "a narcissistic abuser".
Sara Teristi, another former gymnast who trained under Geddert, said his death "victimised us all over again".
"I am thankful that the survivors will not have to endure a lengthy and painful trial, but I am saddened that the chance to see justice served has been stolen from us," she said. "We deserve better."
Echoing those sentiments, a third survivor, Makayla Thrush, told Fox 2 Detroit that Geddert's passing means "no closure for me at all".
What is the latest on the US gymnastics scandal?
USA Gymnastics president and chief executive Li Li Leung has said they "recognise how deeply we have broken the trust of our athletes and community, and are working hard to build that trust back".
But some, including the US's most decorated gymnast, Simone Biles, believe the organisation "has not taken full accountability for its actions" over the scandal.
Biles, 23, who was one of the gymnasts abused by Nassar, has called for an independent investigation.
"We bring them medals. We do our part. You can't do your part in return?" she told CBS last week. "It's just, like, it's sickening."