Hardliner Ebrahim Raisi is to be Iran's next president after a partial vote count gave him an unassailable lead.
He beat three other candidates in a poll in which several contenders were barred from standing.
Mr Raisi is Iran's top judge and holds ultra-conservative views. He is under US sanctions and has been linked to past executions of political prisoners.
Iran's president is the second-highest-ranking official in the country, after the supreme leader.
The president has significant influence over domestic policy and foreign affairs. But it is Supreme Leader Ayatollah Ali Khamenei who has the final say on all state matters.
Iran's outgoing moderate President Hassan Rouhani said his successor had been elected in the previous day's vote, without naming the widely expected winner, Raisi.
"I congratulate the people on their choice," said Rouhani. "My official congratulations will come later, but we know who got enough votes in this election and who is elected today by the people."
The other two ultraconservative candidates – Mohsen Rezai and Amirhossein Ghazizadeh-Hashemi – explicitly congratulated Raisi.
"I congratulate … Raisi, elected by the nation," Ghazizadeh-Hashemi said, quoted by Iranian media.
And Rezai tweeted that he hoped Raisi could build "a strong and popular government to solve the country's problems".
Who is Ebrahim Raisi?
The 60-year-old cleric has served as a prosecutor for most of his career. He was appointed head of the judiciary in 2019, two years after he lost by a landslide to Mr Rouhani in the last presidential election.
Mr. Raisi has presented himself as the best person to fight corruption and solve Iran's economic problems.
However, many Iranians and human rights activists have expressed concern over his role in the mass executions of political prisoners in the 1980s.
Iran has never acknowledged the mass executions and Mr Raisi has never addressed the allegations about his role in them.
What does his win mean for Iran and the world?
BBC Persian's Kasra Naji says that under Mr Raisi Iran's hardliners will seek to establish a puritanical system of Islamic government, meaning more controls on social activities, fewer freedoms and jobs for women, and tighter control of social media and the press.
The hardliners are suspicious of the West, but both Mr Raisi and Supreme Leader Khamenei are thought to favour a return to an international deal on Iran's nuclear activity.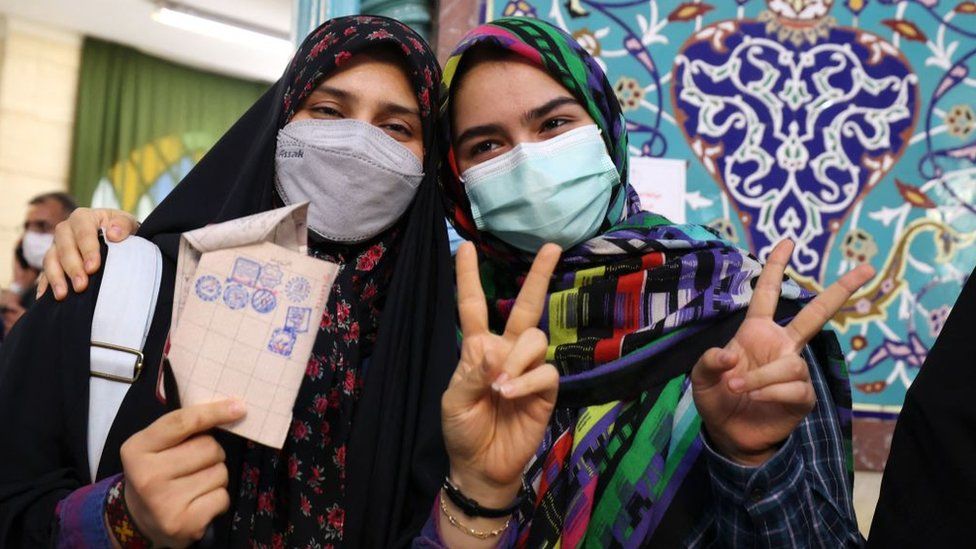 The Joint Comprehensive Plan of Action, signed in 2015, gave Iran relief from Western sanctions in return for limiting its nuclear activities.
The US pulled out of the deal in 2018, and President Trump's administration re-imposed crippling limits on Iran's ability to trade.
The sanctions have contributed to economic hardship for ordinary Iranians, which has caused widespread discontent.
Iran has responded by re-starting nuclear operations that were banned under the deal.
Talks aimed at resurrecting the deal are ongoing in Vienna, with President Biden also keen to revive it. But both sides say the other must make the first move.,
With counting continuing, state TV said Mr Raisi had so far received 62% of the vote – nearly 18 million of more than 28 million votes cast. Some 59 million Iranians were eligible to vote.
Almost 600 hopefuls, including 40 women, registered for the election.
But in the end only seven men were approved last month by the 12 jurists and theologians on the Guardian Council, an unelected body that has the ultimate decision with regard to candidates' qualifications. Three of those candidates subsequently pulled out before polling day.
In response to this, some dissidents and reformists vowed to boycott the election. Turnout this time appears to have been just under 50% – significantly lower than the 73% of voters who turned out for the 2017 presidential poll.
BBC Persian's Kasra Naji says the election has been seen by many Iranians as a brazen power grab by the hardliners who seem to have decided that they can never win free and fair elections, judging by their past performance.