A controversial "golden passports" scheme run by the Pacific nation of Vanuatu saw more than 2,000 people, including Nigerians, Chinese, Italians, a slew of disgraced businesspeople and individuals sought by police in countries all over the world, purchase citizenship in 2020 – and with it visa-free access to the EU and UK, The Guardian of UK has revealled.
Vanuatu issued roughly 2,200 passports in 2020 through this scheme – more than half (around 1,200) were to Chinese nationals. After Chinese, the most common nationality of recipients was Nigerian, Russian, Lebanese, Iranian, Libyan, Syrian and Afghan. Twenty people from the US, six Australians and a handful of people from Europe were also among those who applied.
Among those granted citizenship through the country's development support programme were a Syrian businessman with US sanctions against his businesses, a suspected North Korean politician, an Italian businessman accused of extorting the Vatican, a former member of a notorious Australian motorcycle gang, and South African brothers accused of a $3.6bn cryptocurrency heist.
The passport scheme allows foreign nationals to purchase citizenship for US$130,000 in a process that typically takes just over a month – all without ever setting foot in the country.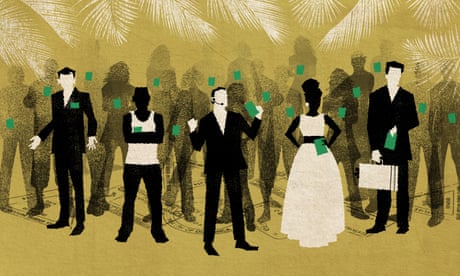 Marketed by agencies as one of the fastest, cheapest and most lax "golden passport" schemes anywhere in the world, the development support program grants unfettered, visa-free access to 130 countries including the UK and EU nations. Vanuatu also operates as a tax haven, with no income, corporate or wealth tax.
Experts have warned the scheme is ripe for exploitation, creating a back door for access to the EU and UK and allowing transnational criminal syndicates to establish a base in the Pacific, and Vanuatu's taxation laws make the country an attractive site for money laundering.
A path to new identities
The passports program, which netted the Vanuatu government more than US$116m last year, has been highly controversial since its relaunch in 2017.
But until now, knowledge of who has bought passports through the scheme has been murky.
A series of internal government documents obtained by the Guardian via the country's freedom of information scheme, details the name and nationality of every recipient of a Vanuatu passport through the country's development support program and Vanuatu contribution program in 2020 and January 2021.
After a months-long investigation, involving searching publicly available court records, electoral rolls, death records, social media trails, and discussions with police and sources from around the world, the Guardian has been able to confirm the identities of dozens of the individuals on the list.
The citizenship-by-investment (CBI) scheme is not illegal and many countries around the world offer CBI programmes. There are many legitimate reasons for applying, including improved freedom of movement or tax-free offshore banking privileges.