US President Joe Biden has come under fire for restoring a Trump-era policy that requires asylum seekers to wait in Mexico while their claims are processed.
Migrant groups said reinstating the Remain in Mexico programme would spur crime and violence in border camps.
Mr Biden had suspended the policy, calling it "inhumane", but was ordered by courts to resume it.
The US and Mexican governments confirmed they would revive it.
Mr Biden's administration has kept up one other major Trump-era border policy: Title 42, which allows for the quick expulsion of migrants on public health grounds.
Why is Remain in Mexico back?
Former US President Donald Trump introduced the programme, then known as the Migrant Protection Protocols, to send more than 60,000 asylum applicants back to Mexico.
Migrants were often left waiting in Mexico for months, where they sometimes fell prey to criminal gangs.
According to charity Human Rights First, there have been more than 1,500 publicly reported cases of kidnapping, rape, torture and other abuses against migrants returned to Mexico.
Mr Biden suspended the programme almost immediately after taking office, as part of a campaign pledge to reverse hardline immigration policies enacted by his predecessor.
In June, Homeland Security Secretary Alejandro Mayorkas terminated the policy.
But in August a federal court Judge Matthew Kacsmaryk, a Trump appointee, ruled that the policy had been improperly cancelled.
The Biden administration is appealing against the decision.
White House Press Secretary Jen Psaki said on Thursday that the president stands by past remarks about the "unjustified human costs" of the programme.
"But we also believe in following the law," she said.
The policy has been revamped to address Mexico's concerns, including to limit time spent for each asylum application to six months.
Implementation is expected to begin next week at ports of entry in Texas and California.
'A dark day'
The move was slammed by pro-immigration groups and lawmakers from Mr Biden's own Democratic party.
The American Immigration Council rejected the Biden team's "claims that it can administer the Remain in Mexico program in a more humane manner", adding: "Today is a dark day for the United States and for the rule of law."
By expanding the programme to include any migrants from the Western Hemisphere – including non-Spanish speaking groups such as Haitians – Mr Biden had "made the programme even broader than under Trump", the group said.
The UNHCR, the United Nations refugee agency, also condemned the move and refused to help implement the policy.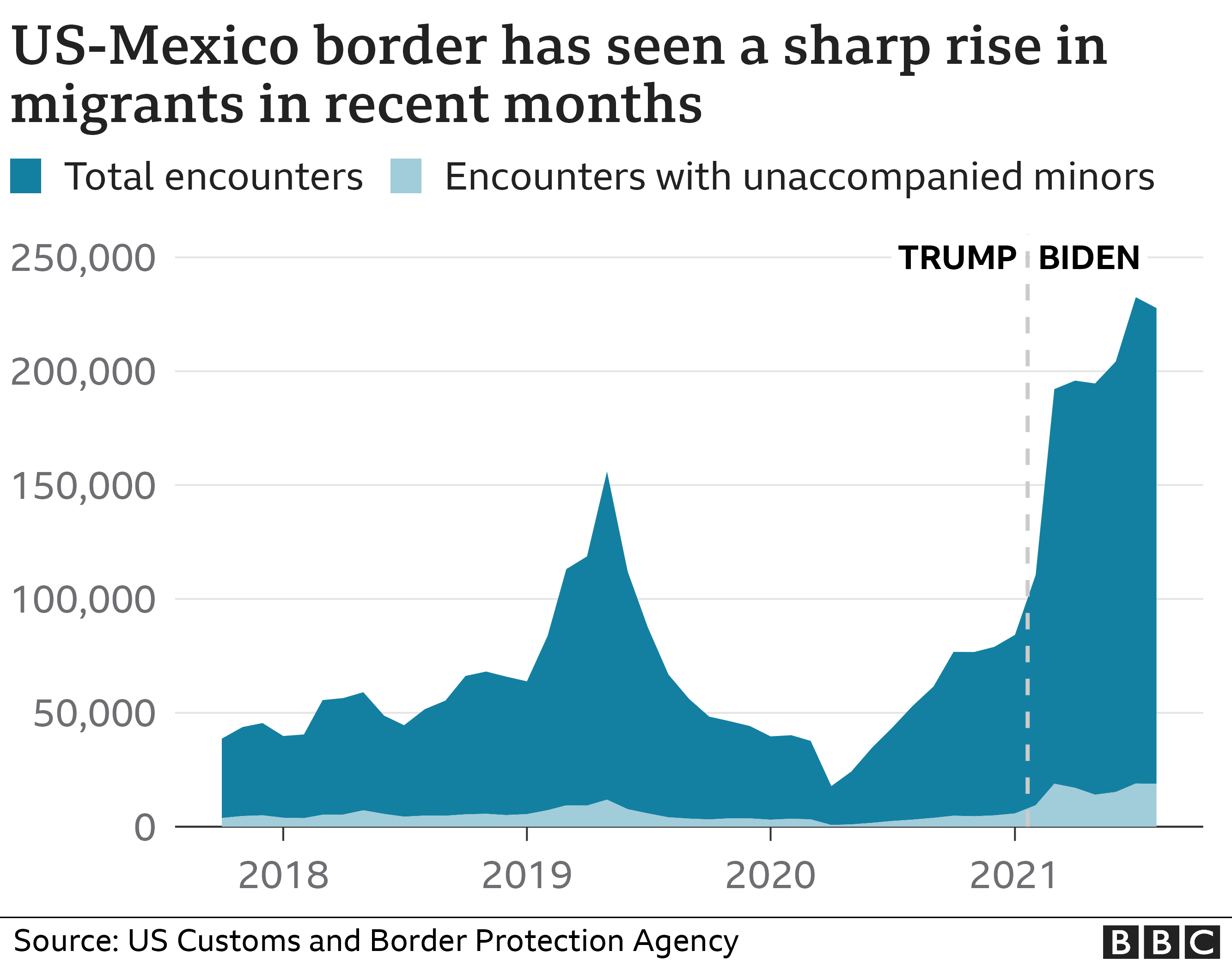 The American Civil Liberties Union (ACLU) said the resumption will lead to "horrific abuse, including torture, rape, and death".
Texas Democratic Congresswoman Veronica Escobar told The Hill newspaper that the policy "erodes our values as a country" and is "a violation of asylum processing".
She called for the White House to aggressively fight the order in court, and criticised Mr Biden for not having fixed the system after nearly a year in office.
Democratic Senator Bob Menendez urged Mr Biden to "make every effort" to overturn "this xenophobic and anti-immigrant policy for good".
Republican House Leader Kevin McCarthy welcomed the reinstatement of Return in Mexico.
"It is unfortunate that it took litigation to force the Biden administration's hand to apply this commonsense measure," he said.