Arthur Morgan, who has spinal muscular atrophy (SMA), received the one-off US gene therapy, Zolgensma, last week.
A five-month-old baby with a spinal disorder has become the first NHS patient in England to be treated with a potentially life-saving drug that can prolong life.
Baby Arthur is just five months old. He has no way of knowing the treatment he is receiving in his right arm is the world's most costly medicine.
His devastating progressive disorder causes loss of muscle control.
But he has become one of the first patients to be treated on the NHS with Zolgensma, a gene therapy with a list price of £1.795m.
Around 40 children are born with the most severe form of Spinal Muscular Atrophy (SMA) every year.
Untreated, they rarely live beyond two.
The NHS has negotiated a confidential discount which means dozens of infants can be treated each year with Zolgensma, which is manufactured by Novartis Gene Therapies.
Arthur, from south-east London, finds it difficult to move his arms and legs and cannot lift his head, so some permanent damage has already been done.
The hope is the one-off treatment will stabilise his condition and prevent further deterioration.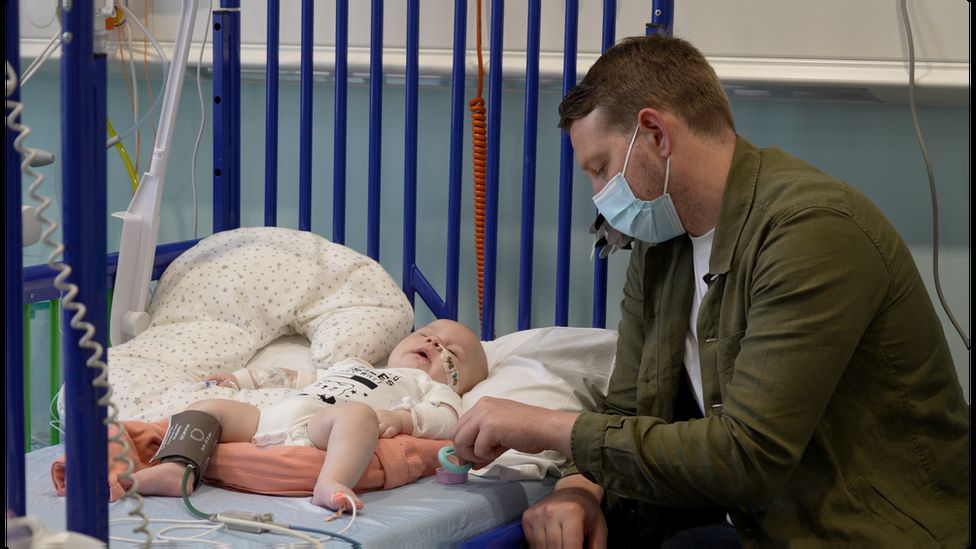 His father, Reece Morgan, says there have been many ups and downs.
"Our hope is that he can have the best possible life in terms of his movement," he says. "We don't know, but we're just going to try as best as we can to give him everything he possibly needs."
So how does Zolgensma work?
The drug contains a healthy copy of a missing or faulty gene called SMN1.
This is inserted into a harmless virus.
In the body, the virus delivers the replacement gene into the nucleus of motor neuron cells.
This is essential to prevent the cells from gradually dying.
The now healthy motor neuron cells start producing the missing SMN protein which is vital for muscle function.
'Hugely important step'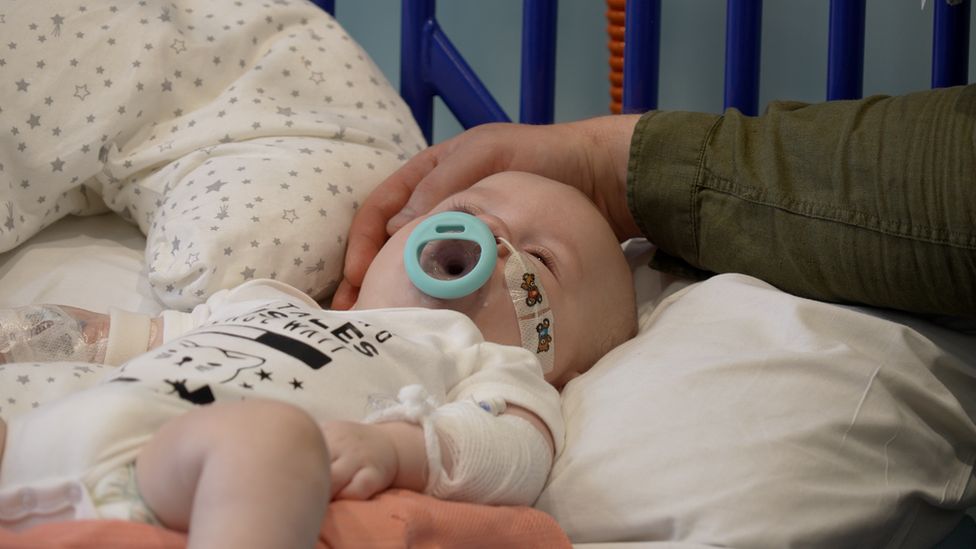 Evelina London Children's Hospital, where Arthur is being treated, is one of a handful of centres which will be offering Zolgensma.
Four specialist NHS centres have now been commissioned across the country. The other sites are Manchester University NHS Foundation Trust, Sheffield Children's NHS Foundation Trust and University Hospitals Bristol and Weston NHS Foundation Trust.
Dr Elizabeth Wraige, a consultant paediatric neurologist at the Evelina, explains that this treatment can really alter the outlook for these children.
"Twenty years ago a baby born with SMA would have a very shortened life expectancy, " she tells the BBC.
"Now, we have the potential to enable children to acquire motor skills such as rolling and sitting and even standing-walking, that would have been impossible without treatment for SMA."
NHS England chief executive Sir Simon Stevens says it is "fantastic news that this revolutionary treatment is now available for babies and children like Arthur on the NHS".
He adds that Zolgensma is among the "life-changing therapies" being "routinely" used by the health service.
Sally-Anne Tsangarides, general manager at Novartis Gene Therapies in the UK, calls it a "hugely important step for babies in England".
"We thank all those who have been involved in the landmark agreement that has made it possible," she says.
Despite the high list price, both NICE and the Scottish Medicines Consortium recommended the NHS fund the treatment.
Trials have shown it produces lasting benefits, which endure at least five years, and perhaps will prove to be permanent.
The only other treatment for SMA involves costly spinal infusions which need to be given at least three times a year.
'It saved her life'
Tora, from south-west London, first displayed symptoms when she was around three months old – struggling to lift her head when lying on her tummy.
By the time Tora began treatment with Zolgensma in the US when she was 10 months old, her mum, Taisya Usova, says she was floppy and didn't have any mobility.
"She couldn't do the basic things. She couldn't reach for a toy, which was five centimetres away. We couldn't leave her alone, Even on the sofa, where she was all surrounded by cushions and pillows because everything was too dangerous," she says. "We couldn't relax for a second, and she couldn't enjoy her life."
Now aged two years and eight months, Tora is an inquisitive little girl who speaks three languages and can walk a little with the help of her parents.
"If she's just sitting on the sofa you would never notice that something is not quite right," Taisya explains.
"It saved her life, and basically she now has a chance to enjoy her life and to do things that are so basic and simple for any other child but for her it would be absolutely impossible. To go to the playground, to go on a swing, or to hold and read a book."
Rajdeep Patgiri, Tora's Dad, says the family now feels positive.
"Before we were afraid of what the next day would bring," he says. "We were always afraid that she would lose some skills – deteriorate in her swallowing, in her breathing. Now we look forward with optimism that tomorrow something good will happen."
Around one in 50 people carry the faulty gene for SMA, and the condition affects approximately one in every 10,000 births.
It is the most common genetic cause of death in childhood.
SMA is a condition where the clock is ticking from the moment a baby is born. Every week that passes where they are untreated, risks further damage to the nerve fibres and can make the difference between a child being able to walk or run or sit unaided.
It is usually spotted when babies are around three months old and they start failing to meet the usual milestones like kicking their legs or holding their heads up.
But by then, permanent damage will have been done to motor neuron cells.
For families who have already had an affected child, prenatal screening is offered.
This has enabled babies to be given Zolgensma within a few days of birth, long before symptoms appear.
This can mean their muscles develop normally and they suffer no movement problems.
UK must 'catch up'
Patient groups and doctors treating SMA want the condition to be added to the newborn screening programme. All babies are given a heel prick blood test which can pick up nine conditions like sickle cell disease and cystic fibrosis.
"We need newborn screening for SMA to be introduced in the UK so that our children have this opportunity for their futures," charity SMA UK tells the BBC.
"The earlier Zolgensma is given for SMA the better, with pre-symptomatic treatment shown to give the very best possible outcomes. Early diagnosis and treatment is vital."
Nickie Aiken, Conservative MP for the Cities of London and Westminster says the UK is lagging behind many of our European neighbours and the world.
"It's a disgrace. Our newborn screening programme needs to expand and catch up urgently with the likes of Poland, Hungary and America so that we can identify diseases early and our children get the treatment they need. We have the means to test for these conditions and we have the treatments – by not screening for them we are doing wrong by our children, and they risk becoming the sick children of Europe."